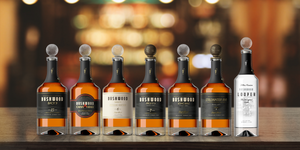 Who We Are
The name Bushwood means many things to many people. As a golf-themed lifestyle company, it's nostalgic for us, and takes us back to a time when the world was far less complicated and, in our humble opinion, far more fun. We chose the name Bushwood because in pop culture it is synonymous with the dysfunctional country club in the cult classic golf comedy film, Caddyshack. But, it also represents our view of ourselves as a company, and the country as a whole. And that's where the fun begins…
 Our founder, Brad Carpenter, sowed the seeds for the Bushwood concepts over 10 years ago. The idea for Bushwood was developed while Brad was recovering from an injury and unable to play golf. He wanted a creative and productive way to use the downtime. Being a fan of Caddyshack, he would watch it frequently, and he began to wonder why nobody had attempted a REAL sequel. He wondered what all the characters be doing today, and equally important, what was their backstory? Without getting down in the weeds, Brad determined that a central character had made their money bootlegging whiskey, and that their distillery was aptly named, Bushwood. The name stuck, and Brad spent the next 6 years accumulating an expansive portfolio of Intellectual Property, thus setting the stage for the launch of the brand.
Today, Bushwood Spirits celebrates 10+ years of development, and its successful launch in October of 2021. We are sold throughout the US direct-to-consumer, and formally distributed in 7 states and growing. Our commercial customers range from national retail chains to specialty liquor stores, high-end restaurants, clubs and sports bars, golf resorts and private clubs.
 Bushwood is a place where we can all come together to embrace our differences, share experiences, grab a drink and enjoy some laughs. Our company slogan is "Be the Ball," which to us means, stay in the moment. And that's the spirit of Bushwood. 
Brad Carpenter
Founder / CEO
Bottling Bushwood Front 9, 7 Year, Single Barrel, Straight Kentucky Bourbon at Bardstown Bourbon Company, Bardstown, KY, 2022